Lest our pursuit of beauty make the world ugly
For an apparel startup that up-cycles found fabrics to craft signature bow ties, I created a voice and tone guide to help the brand stay on message across channels and convey the founder's passion for sustainability like its a no-brainer. 
We settled on a slight hard sell tone that speaks casually and gets to the point quickly.
Lest is
The Conscious Dresser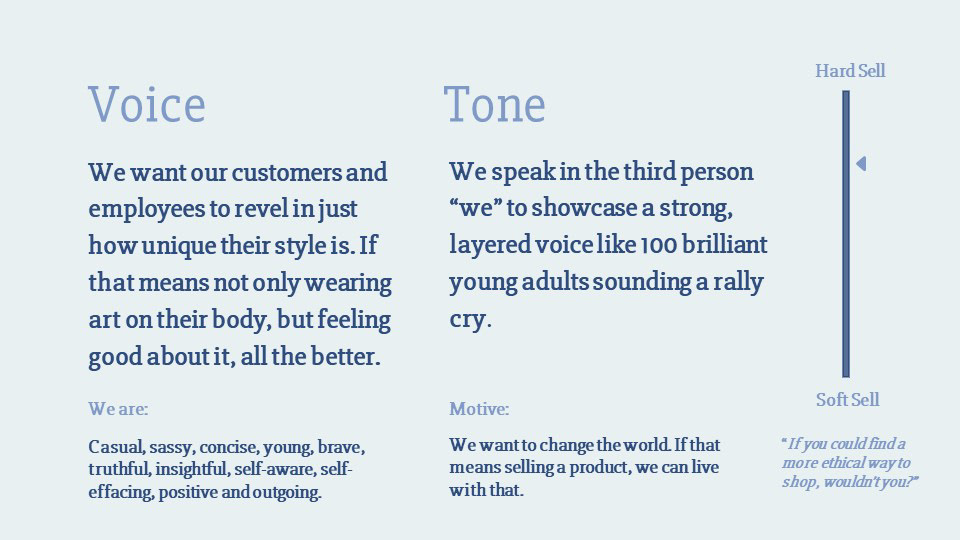 We then did a brand-purpose exercise to help create their mission statement.

Conscientious apparel
​​​​​​​
So our pursuit of beauty doesn't make the world ugly
1. Choosing relationships carefully to cultivate authenticity
2. Localizing production for style with an organic feel
This turned into our mission statement:​​​​​​​
LEST

believes in a more beautiful tomorrow. That's why we craft our bow ties without the "fashion for fashion's sake" mindset – the aesthetic of an accessory is as valuable as where it comes from. We make our styles sustainable

LEST

our pursuit of beauty make the world ugly.